Before scheduling an eye exam, you may be curious about how long the process takes. After all, you have a busy life and want to make sure that you can fit a comprehensive eye exam into your schedule. While the duration of an eye exam can vary depending on your specific vision and eye care needs, an eye exam typically takes between 30–60 minutes.
During a comprehensive eye exam, your eye care team will conduct a complete assessment of the health of your eye and your vision. This exam may take longer if you have more complex vision needs or have certain health conditions such as diabetes or high blood pressure.
While booking your eye exam, your eye care provider may be able to provide a more specific estimate of how long you can expect to spend at their office.
What to Expect at an Eye Exam
The time that it takes to get an eye exam can vary widely from person to person. The estimated time frame includes pre-exam procedures, the actual eye exam, and possible follow-up discussions with your optometrist.
Before Your Eye Exam
Prior to your eye exam, your eye doctor will likely want to know more about your medical history. This may include taking note of things like medical conditions or medications to help your eye doctor gain a better understanding of your overall health prior to your exam. If you're a new patient, it may take longer to complete your medical history.
At Your Eye Exam
At your eye exam, your eye doctor will likely measure your visual acuity to determine if you need corrective lenses. However, a comprehensive eye exam involves much more than just a vision test.
During an eye exam, your eye doctor will conduct a series of tests to assess the health of your eyes and your vision. These tests may include checking your eye pressure, evaluating your visual field, and examining the interior and exterior of your eyes. Your eye doctor may also need to dilate your pupils to get a better view of your retina and other important structures inside your eye.
The duration of these tests can vary depending on your individual needs. If you have a pre-existing medical condition such as diabetes, your eye doctor may need to spend more time examining your eyes to monitor for the signs of serious eye conditions like diabetic retinopathy. Alternatively, if you have healthy eyes and good vision, your eye exam may be quicker and more straightforward.
It's also worth noting that not every optometry clinic offers the same tests and services. Some clinics offer more advanced testing and screening services that can affect the length of your exam. These tests can help your optometrist detect subtle changes in your eye health that may not be apparent during a basic eye exam and can even play a role in diagnosing serious health conditions, including diabetes, glaucoma, and macular degeneration.
After Your Eye Exam
In some cases, your eye doctor may need to see you for a follow-up visit after your eye exam. You may require a follow-up appointment for a number of reasons, including if you need additional testing that was not done at your initial exam.
Contact lens wearers may also require additional appointments to monitor the fit and comfort of new lenses that are prescribed at an eye exam.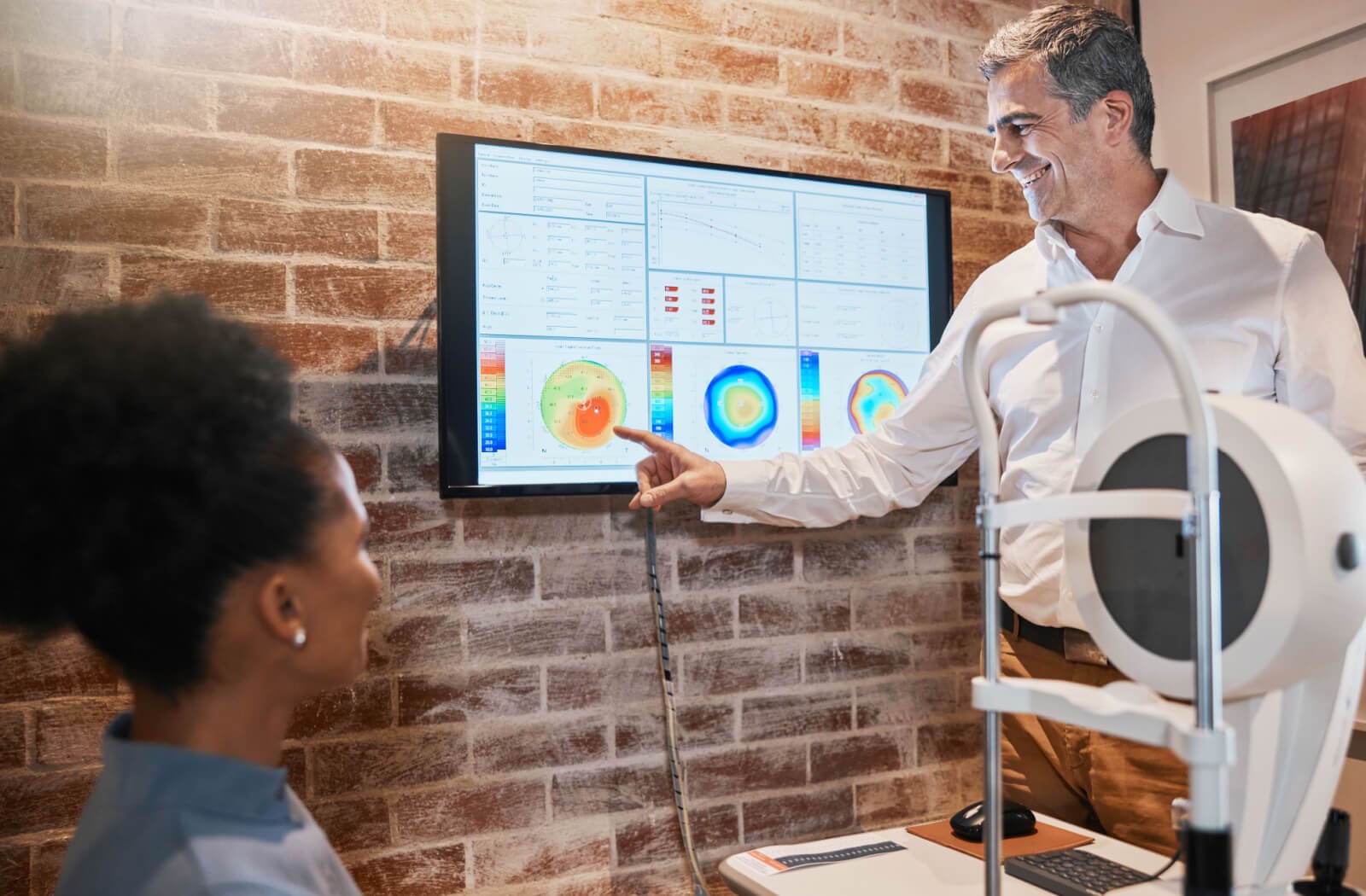 Why Do I Need an Eye Exam?
The best way to ensure your eye health and vision is by taking the time to have your eyes checked regularly. An eye exam can play a key role in diagnosing serious eye and general health conditions, including:
Glaucoma
Cataracts
Retinal detachment
Macular degeneration
Diabetes
High blood pressure
Brain tumours
According to the Canadian Association of Optometrists, school-age children (6–19 years old) and seniors (65 and older) should have their eyes examined every year, and adults (18–64 years old) should have an eye exam at least every 2 years.
This time frame may vary depending on your specific vision and medical needs, so it's best to work with your optometrist to create an exam schedule that is tailored to you. However, generally speaking, if it has been more than a year or 2 since your last eye exam, it's time to check in with your eye doctor. This investment of 30–60 minutes of your time can be invaluable to your overall health.
Schedule Your Eye Exam
In general, the length of your eye exam will depend on your unique vision and eye care needs. However, even if your exam takes longer than expected, it's important to remember that the extra time is well worth it to check in on your eye health.
If you're concerned about the length of your eye exam or have specific scheduling needs, it's a good idea to speak with your eye care provider ahead of time. They may be able to offer you alternative appointment times or suggest ways to make the exam more efficient without compromising on the quality of care.
If you're due for a comprehensive eye exam, contact the team at Byron Optometry to book an appointment today! Our experienced team of eye care professionals is here to support your eye care needs, including full comprehensive eye exams for the whole family.