If your eyes hurt after a long day on the computer, you may wonder how long this irritation lasts. Is the rest of your day ruined, or can you relieve this discomfort? Thankfully, eye strain doesn't normally mean you need to visit your eye doctor.
Eye strain can last around an hour or more based on its severity. It's a condition that doesn't typically last longer than a day, but its symptoms can lower your quality of life.
What Is Eye Strain?
Eye strain is a condition that causes your eyes to feel tired, dry, and uncomfortable. This irritation can occur for many reasons, from reading to computer use.
If you have eye strain, you may experience several symptoms, including:
Watery eyes
Eyes that sting or burn
Blurry vision
Light sensitivity
Trouble focusing
Sore neck, shoulders, or back
If eye strain is a common occurrence in your life, you may worry if your eye health and vision are at risk. While eye strain can be uncomfortable, it isn't dangerous and doesn't cause long-term damage.
How Long Does Eye Strain Last?
There is no definite time for how long eye strain lasts. In general, it can last around an hour or more, depending on its severity. Your eyes start to relax after you get away from the cause of your irritation—like putting down a book or avoiding digital screens.
If you have other eye strain symptoms like a headache or sore neck, it may take longer for your symptoms to go away. Eye strain symptoms typically don't last longer than a day.
What Causes Eye Strain?
Eye strain happens when you overuse your eyes, whether reading, driving, or using the computer. Intense focus can lead to irritation and other uncomfortable symptoms.
You may develop eye strain when you:
Read without pause
Expose your eyes to bright light
Focus on a close-up activity for long periods
Strain to see in dim light
Are stressed
Wear the wrong pair of prescription glasses
Be Careful About How You Use Your Digital Devices
Digital devices like phones, computers, and tablets are intertwined with daily life through work, hobbies, and entertainment. Many people use their computers daily, which can lead to digital eye strain.
Eye strain occurs because of how you use your digital devices. When using their devices, people tend to:
Blink less frequently
Look at their screen from awkward angles
Sit too close to the screen
Additionally, digital screens are harder to read, and glare and reflection from these screens can make your eyes work harder to see a clear image, leading to irritation.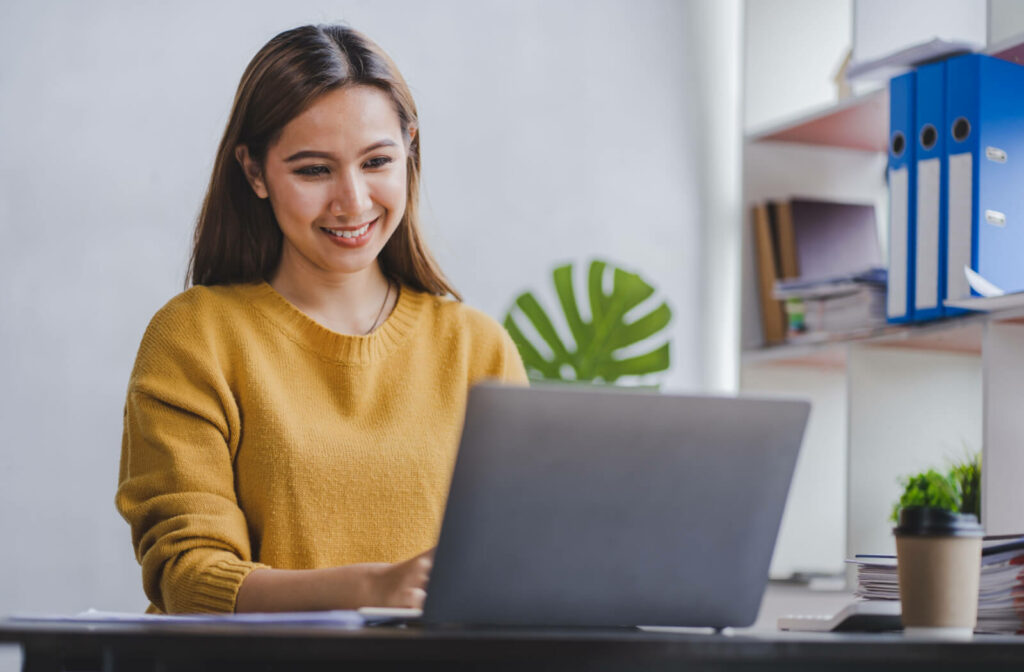 Can You Treat Eye Strain?
When you have eye strain, there isn't a simple way to treat it. Your symptoms tend to go away with time after you rest your eyes. When addressing eye strain, your eye doctor will typically recommend changes to your lifestyle—eye strain treatment focuses on prevention.
Eye Strain Prevention
The best way to treat eye strain is to avoid it. The way you use your devices can lead to discomfort. Changing your digital habits can help relieve or prevent future irritation.
If you're looking to prevent eye strain, there are several tips you can try, including:
Ergonomic changes: Keep enough distance between your eyes and the screen (an arm's length) and angle the screen to look slightly down towards it. If your screen is dirty, clean away fingerprints and dust to see easier.
Follow the 20-20-20 rule: The 20-20-20 rule can help prevent irritation if you use digital devices for multiple hours each day. Take a 20-second break every 20 minutes to look at something at least 20 feet away. Taking this break helps your eyes refocus and avoids overuse.
Optimize your devices: Optimize all your devices (phone, laptop, etc.) to prevent discomfort. You can match the colour and contrast of your devices to balance them, helping you see comfortably. You can also increase the text size on your devices to make reading easier.
Appropriate lighting: Match the lights in your room to your screen's brightness—not too bright or dim. Doing this can help prevent your eyes from straining to see clearly. Additionally, make sure you position your screen away from incoming sunlight or bright overhead lighting.
Remember that eye strain symptoms can be deceiving. If irritation persists despite changing your habits, book an eye exam with your optometrist. Your symptoms may be a sign of an underlying eye problem.
Don't Let Eye Strain Rule Your Life
When it's severe, eye strain can significantly disrupt your life. While this problem can be uncomfortable and irritating, it's preventable with lifestyle changes. After learning more about your digital habits, your eye doctor can recommend several ways to prevent eye strain.
Contact Byron Optometry if you experience eye strain symptoms.